Regular price
$1,199.00
Sale price
$989.99
Unit price
per
Sale
Sold out
Share
Micargi 26 Vancouver Complete Cruiser Bikes Shimano 7-Speed high Rise Handlebars Fat Tires DISC Braking Adult Beach Bike
【SAFER RIDING】The SEATTLE SS beach cruiser bike is made of oversized hi-ten steel and a chopper-style stretch cruiser with a sleek and attractive design, perfect for adventure lovers, comfortable riding around. The highly efficient DISC brakes stop your bike immediately on every terrain and require much less pressure at the lever to generate an equal level of braking power, to supply one safe and relaxed riding.
【One Speed VS SHIMANO 7-SPEED】Benefits of a single speed bike:
Simple and easy to use: single-speed bicycles do not have derailleurs and chain shifting mechanisms, and are easy to operate without excessive technology and adjustments.
Lightweight and portable: Since there are no redundant parts such as transmissions, single-speed bicycles are relatively lightweight and easier to carry and store.
Low Maintenance: Due to the lack of complex drivetrains, single speed bikes are low maintenance and require less frequent adjustments and repairs.
Benefits of a seven-speed bike:
Adjustable intensity: The seven-speed bicycle provides multiple gears, and the appropriate gear can be selected according to road conditions and riding intensity, making riding more comfortable and efficient.
Adapt to different road conditions: The multiple gears of the seven-speed bicycle can adapt to undulating road conditions, such as climbing, downhill, flat roads, etc., to provide a better riding experience.
Increased speed: The high gear of the seven-speed bicycle can increase the riding speed, suitable for long-distance riding or cyclists who pursue speed.
SHIMANO TX-35 7-Speed with easy-to-use Revo shifter allows wide range of rides, from leisure to long distance.
【 HIGH-PERFORMANCE FAT TIRE】The fat tires make the bike look aggressive and ensure its overall performance. They provide better traction to cruise over rough terrains smoothly. The heavy performance front 26.0x4.0" and rear 26x3.0" fat tires offer you one excellent road grip journey.Better cushioning and comfort: Compared with ordinary tires, fat tires have a larger airbag volume, which can provide better cushioning effect, reduce the feeling of road vibration when riding, and improve riding comfort. Especially on uneven roads or bumpy mountain riding, fat tires can better absorb impact.
Better grip and stability: The relatively wide ground contact area of fat tires enables the bike to have better grip under various road conditions, providing more reliable handling and stability. This is especially important for mountain biking, off-road riding or rough roads.
Stronger passing performance: Due to the larger width of the fat tire, the bicycle has better passing performance when passing through some complex road conditions, such as sandy beaches, muddy fields, and snowy fields. The low pressure of the fat tire allows the tire to step on soft soil or loose ground better, increasing traction and reducing slippage.
Better shock absorption effect: The large air bag of the fat tire can provide better shock absorption effect, which is more comfortable for long-term riding or riding on bumpy roads.
Greater Stability: The width and low pressure of the fat tires allow the bike to have a lower center of gravity, increasing the stability of the bike and reducing the risk of roll and crash.
【HIGH RISE HANDLEBARS】The classic high-rise handlebars are a typical feature of comfortable chopper-style bikes. They keep your back in an upright position for maximum comfort.
【COMFORT RIDING】You can comfortably ride the bike by sitting relaxed on its WIDE cruiser seat with springer. And the strong triple three fork that absorb shocks on the road. The wide design supports riders of all size
FRAME Tracer 26"  Chopper Stretch Hi-ten Steel
FORK Tracer Triple Tree Aluminum Dua crown  Disc Brake  
SHOCK N/A
HANDLEBAR Tracer Steel Hi-Rise Hi15" W29.5"
STEM Tracer alloy 28.6mmx22.2mm Heavy Duty
HEADSET: Steel Diameter 1-1/8x30xH34mm
SEATPOST Steel 28.6x250mm
SADDLE Vacuum elastic PVC leather+high density PU foam with springs
PEDALS Nylon Platform one-piece PP
SHIFTERS Shimano SL-RS35R, 7-speed
FRONT DERAILLEUR N/A
REAR DERAILLEUR Shimano Tourney TY300
BRAKE mechanical disc, 160mm rotor
BRAKE LEVERS Alloy
CASSETTE Shimano TZ500, 14-28, 7 speed
CHAIN KMC C8 1/2"x3/32"  
CRANKSET Alloy/steel, Crank Arm Length: 170mm 46T
BOTTOM BRACKET NECO Cartridge Steel
RIMS Alloy FAT 3" 26"*36H*13G Spoke wheelset
FRONT HUB Alloy  6-bolt Disc 3/8"x13Gx36H
REAR HUB  Alloy 6-bolt Disc 3/8"x13Gx36H
SPOKES 13 gauge Steel
TIRES INNOVA FAT Black white wall 26"x3.0
FENDERS N/A
EXTRAS 184x24x85CM  33KG
View full details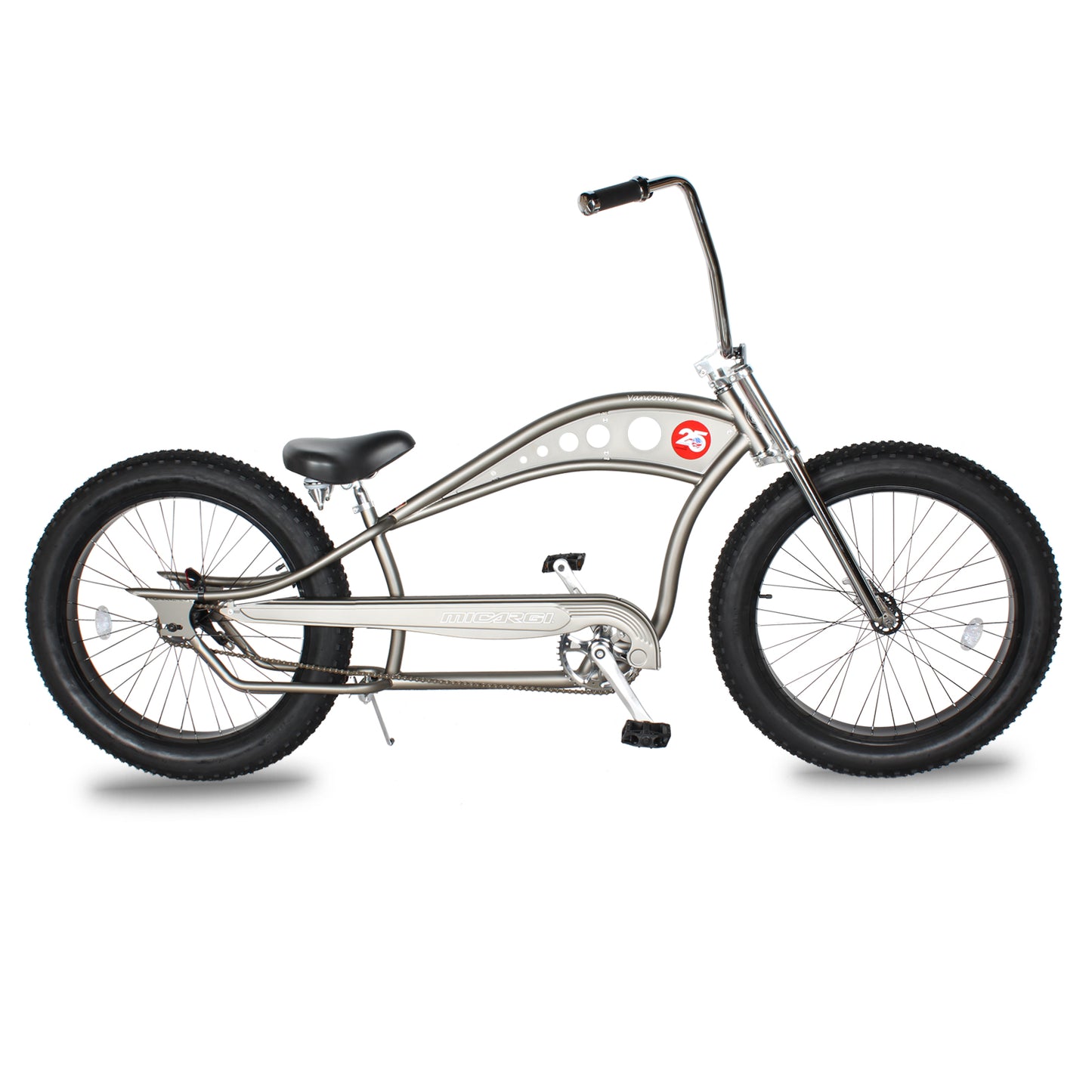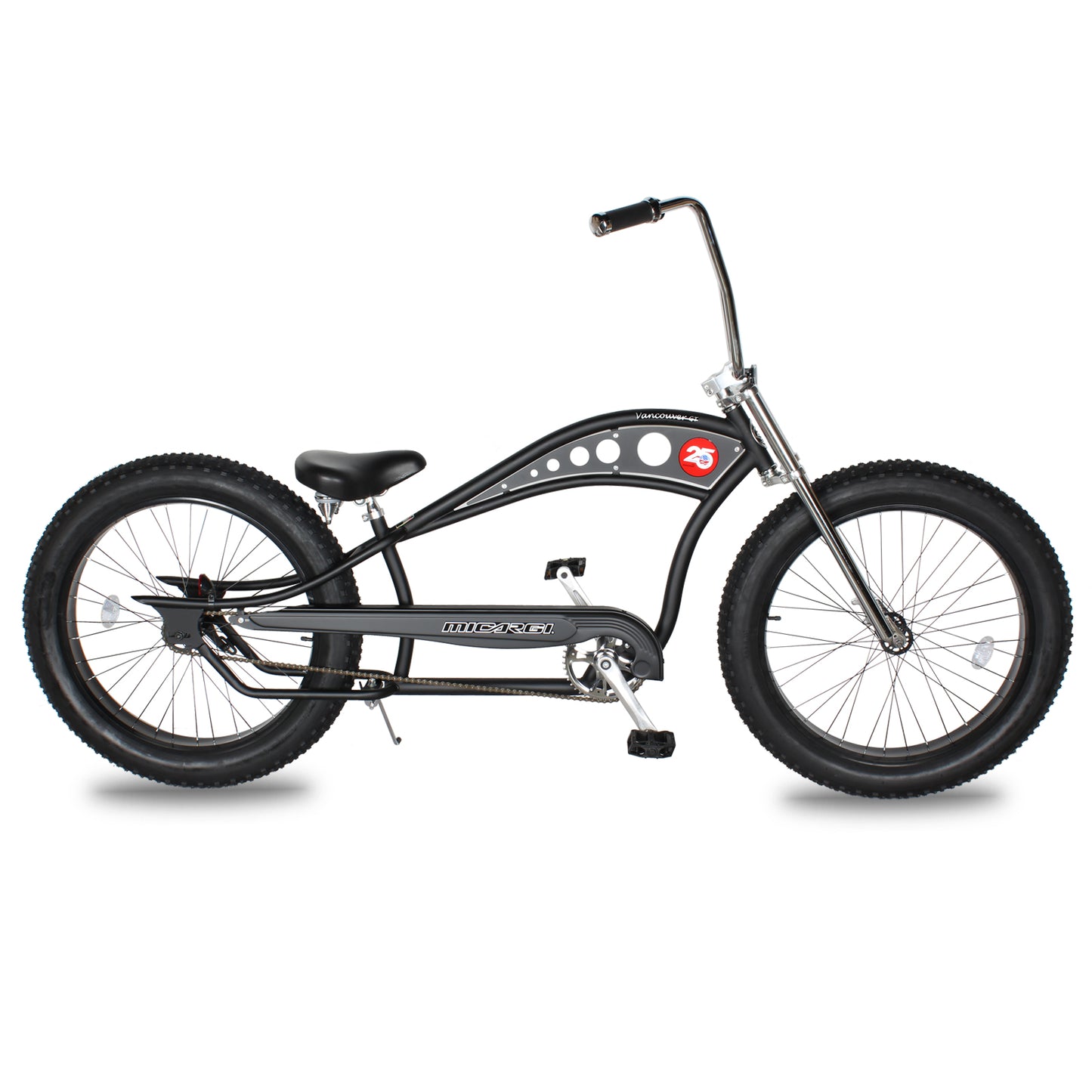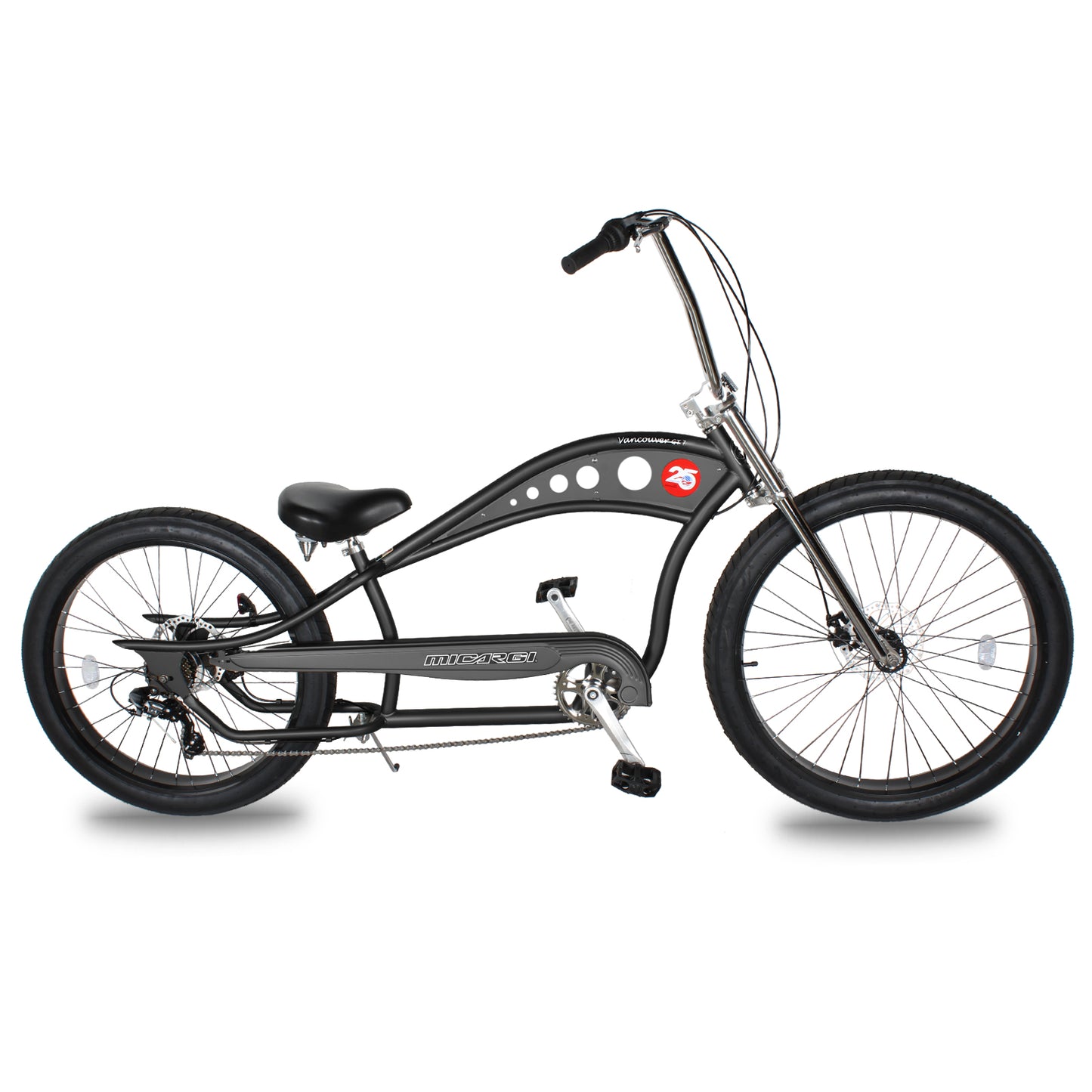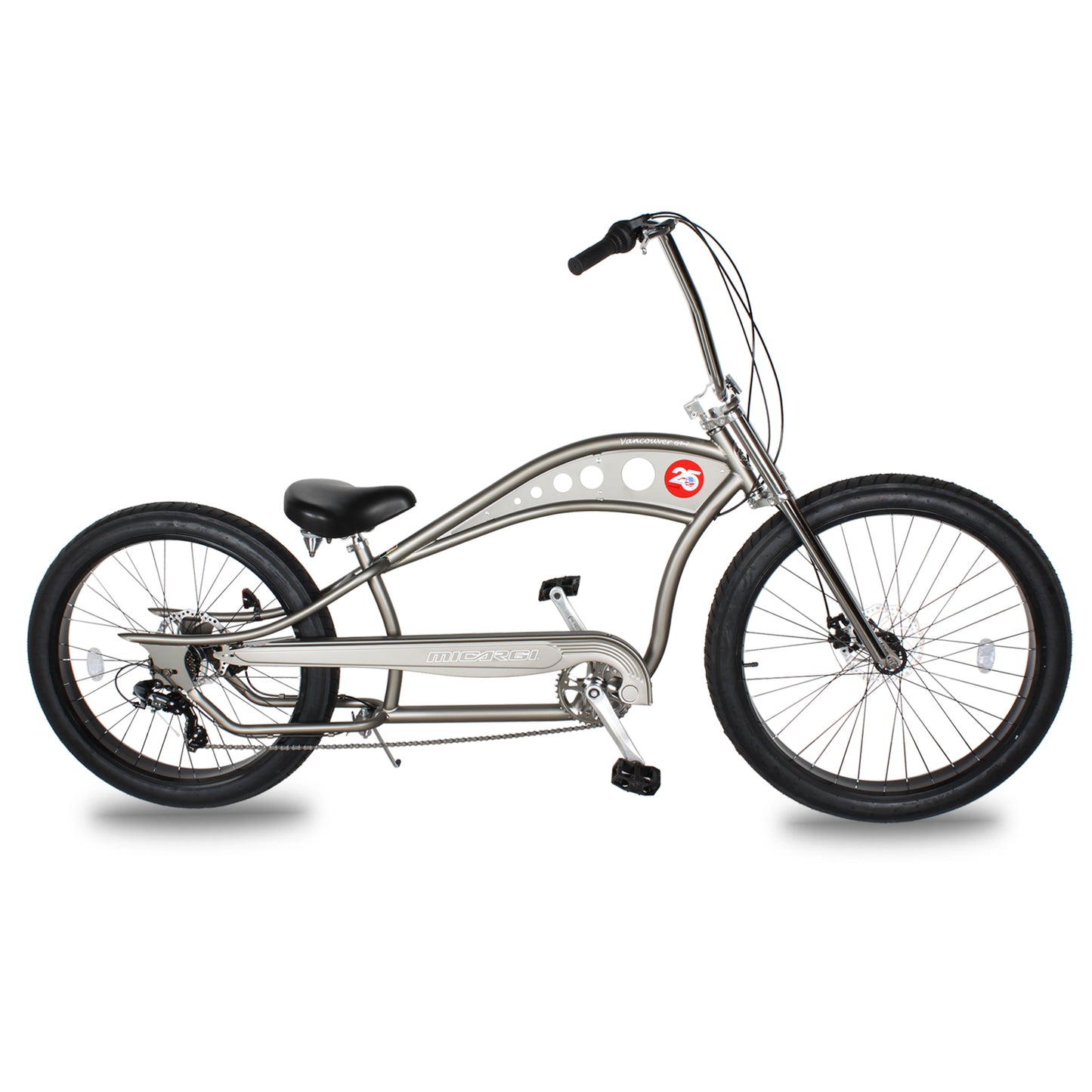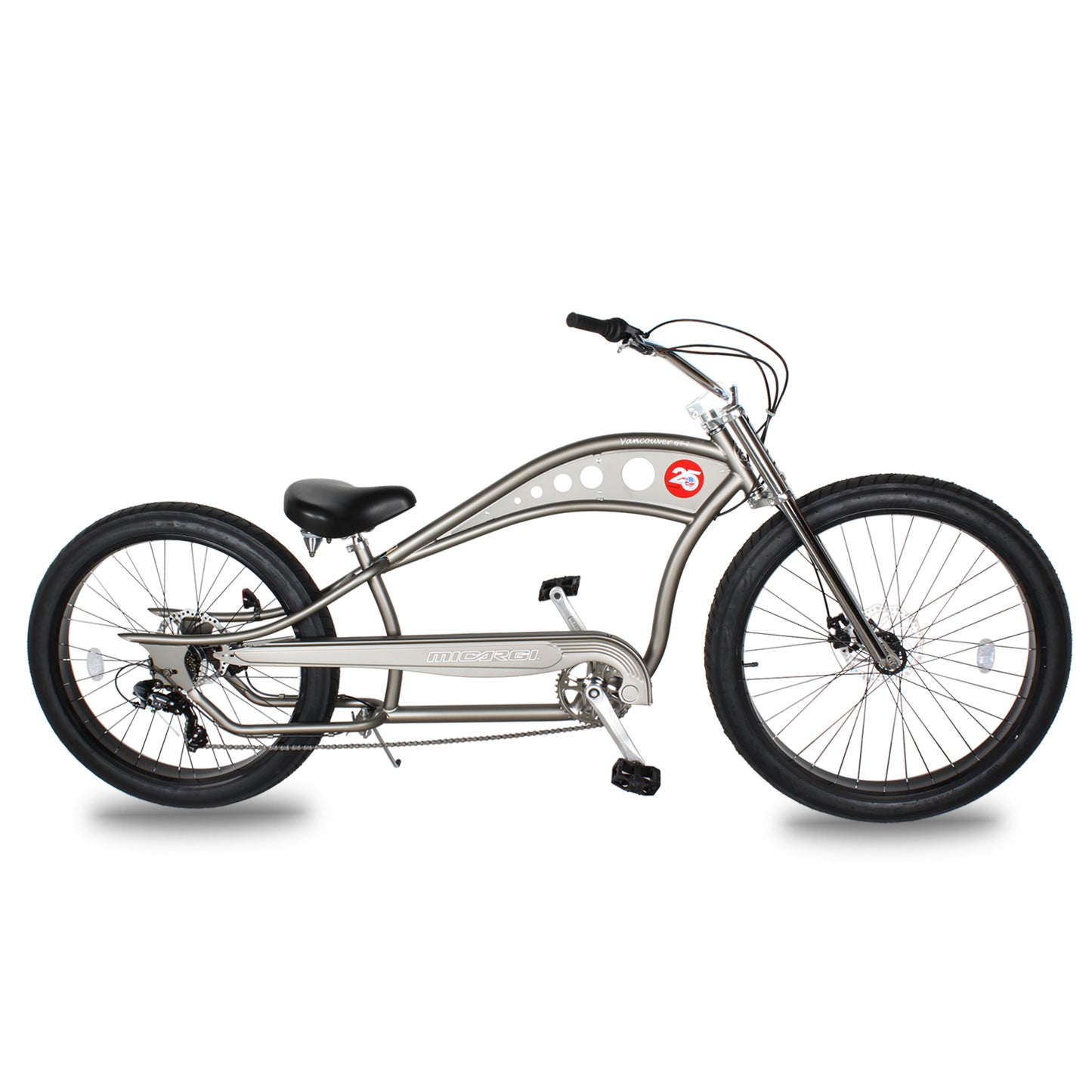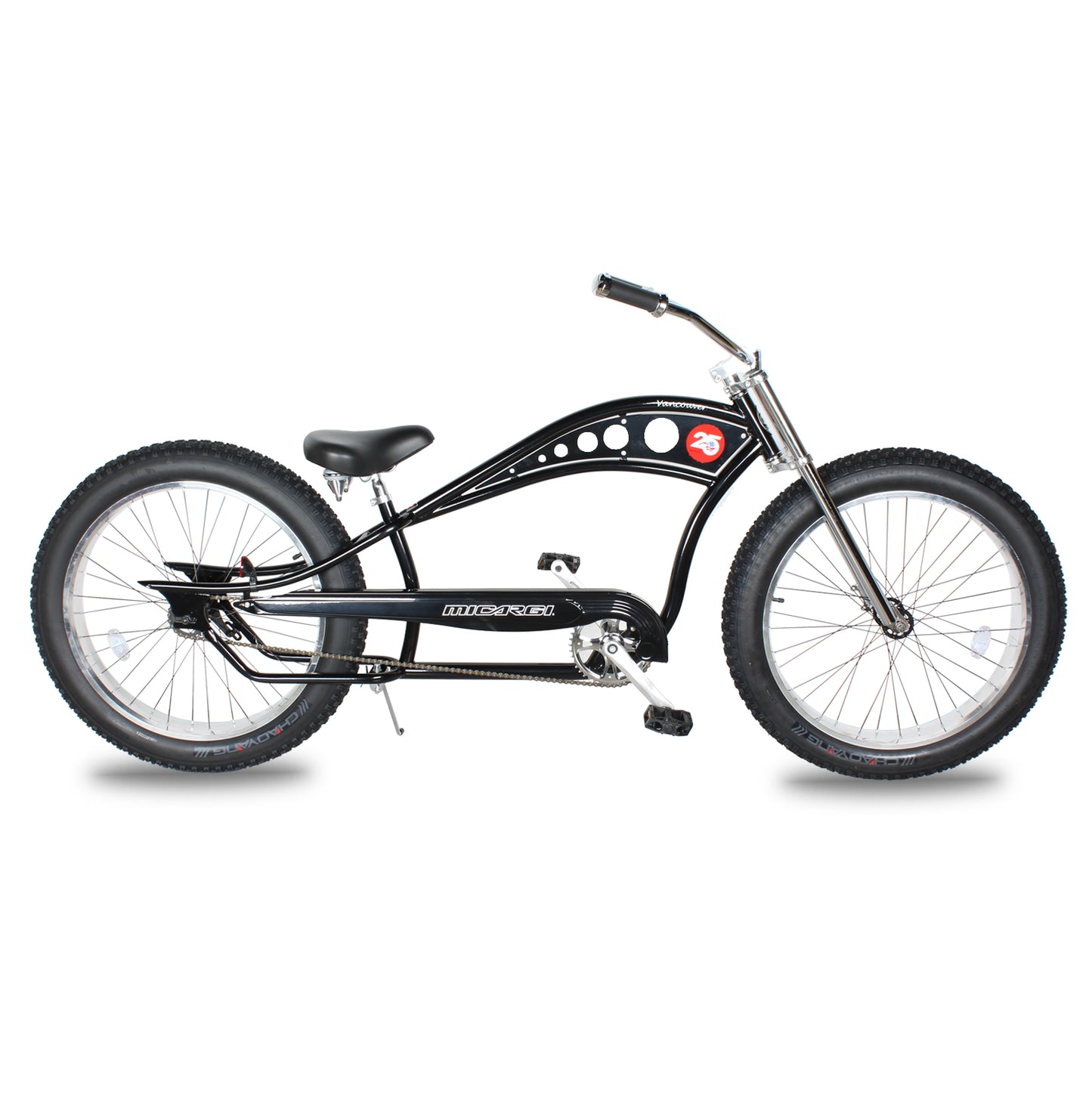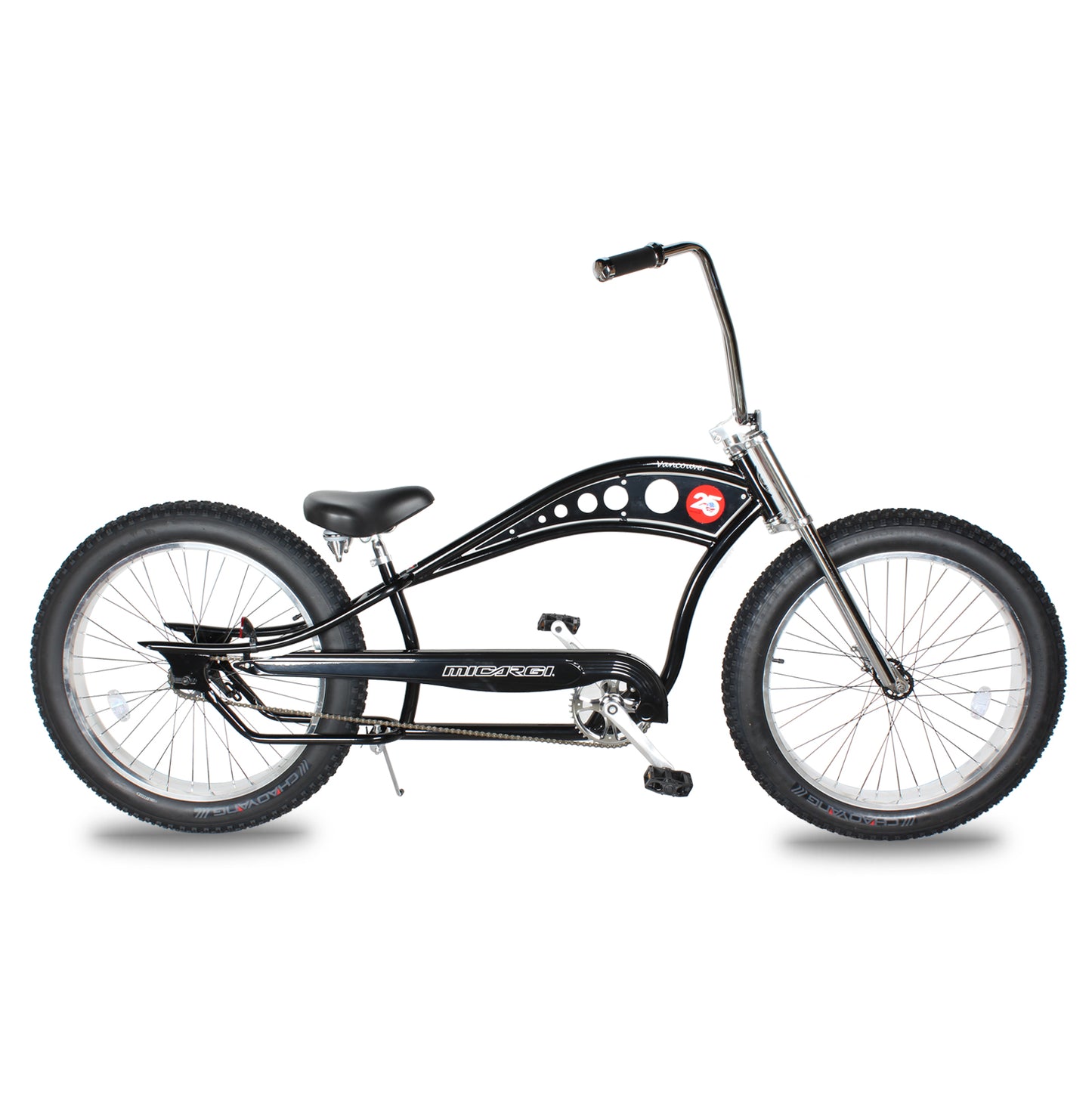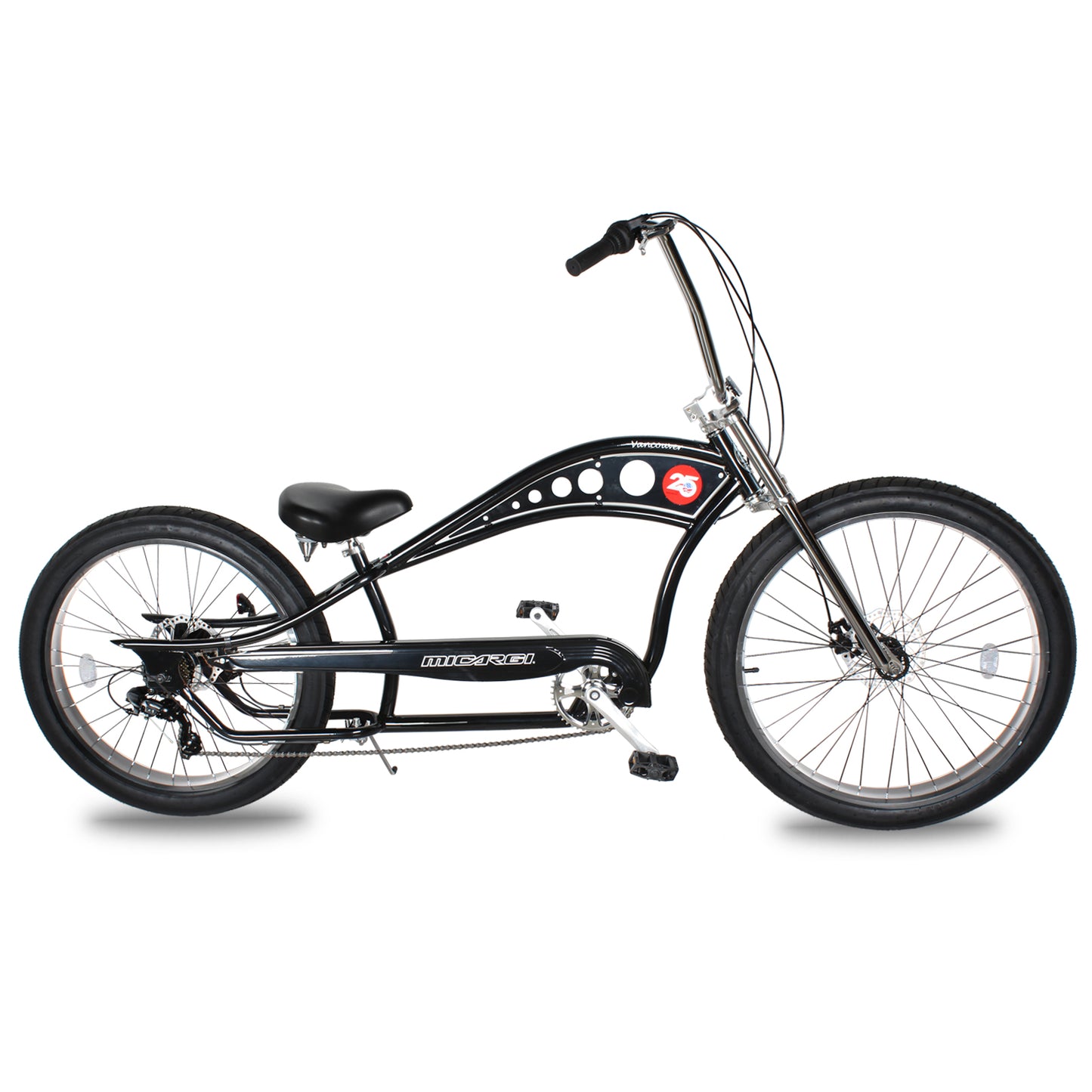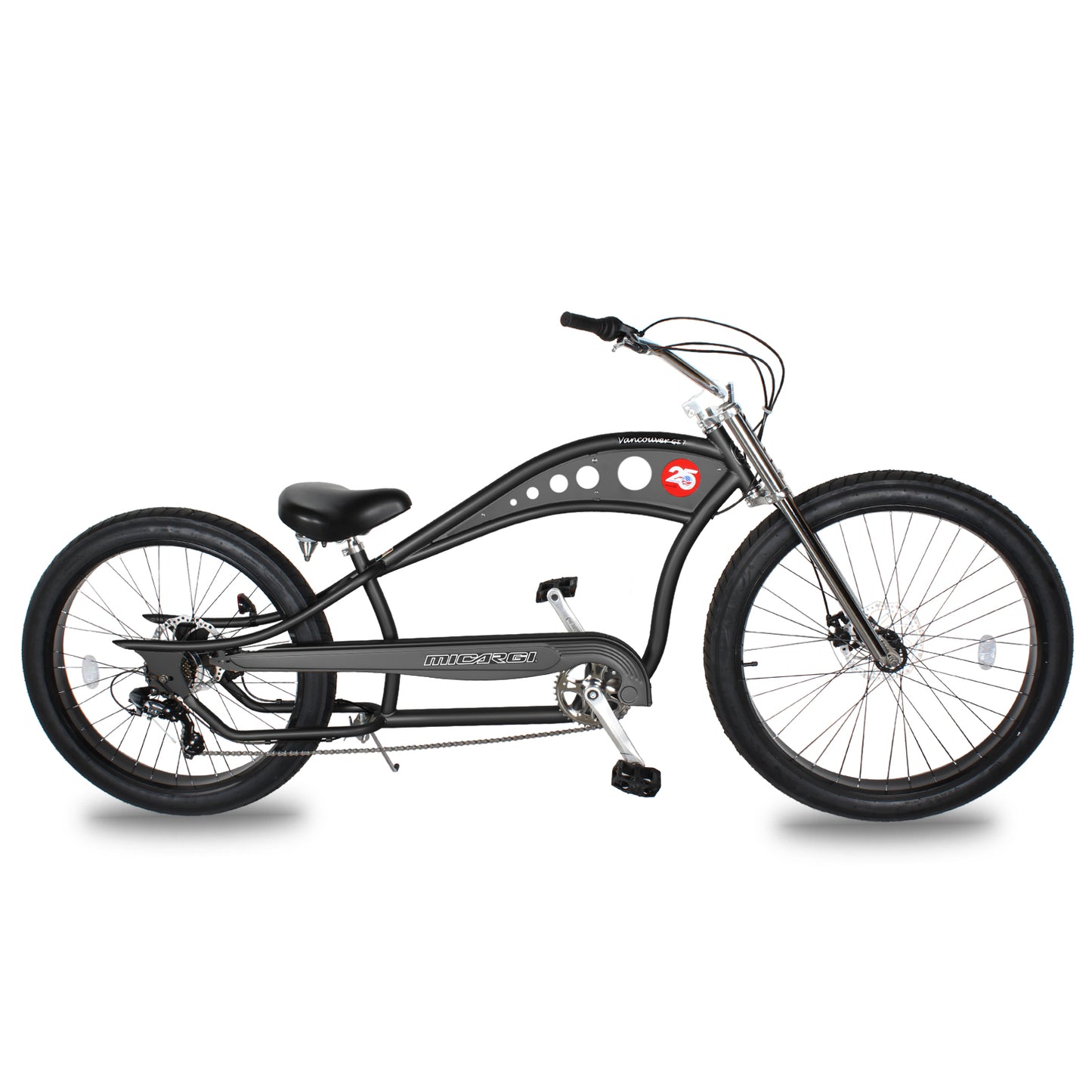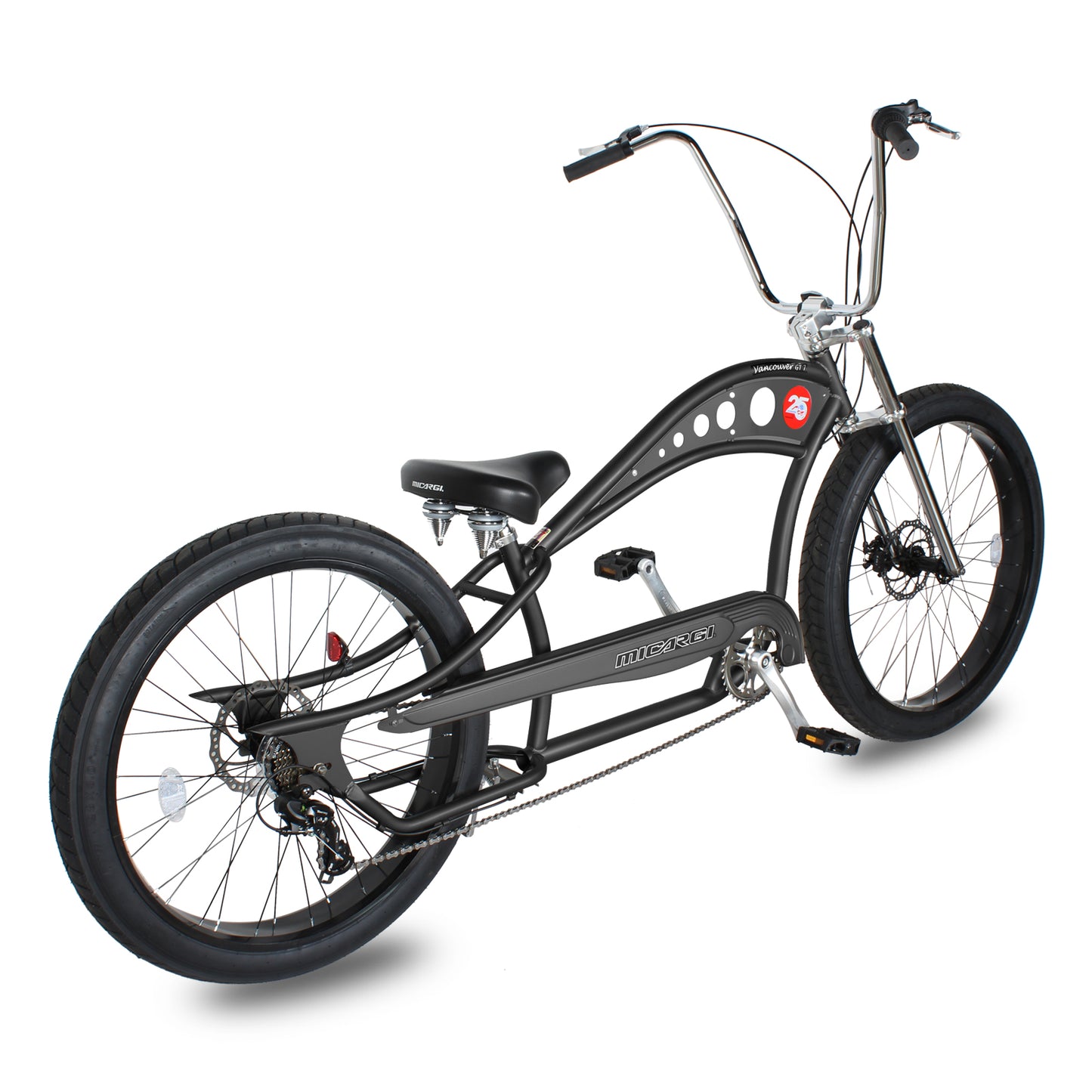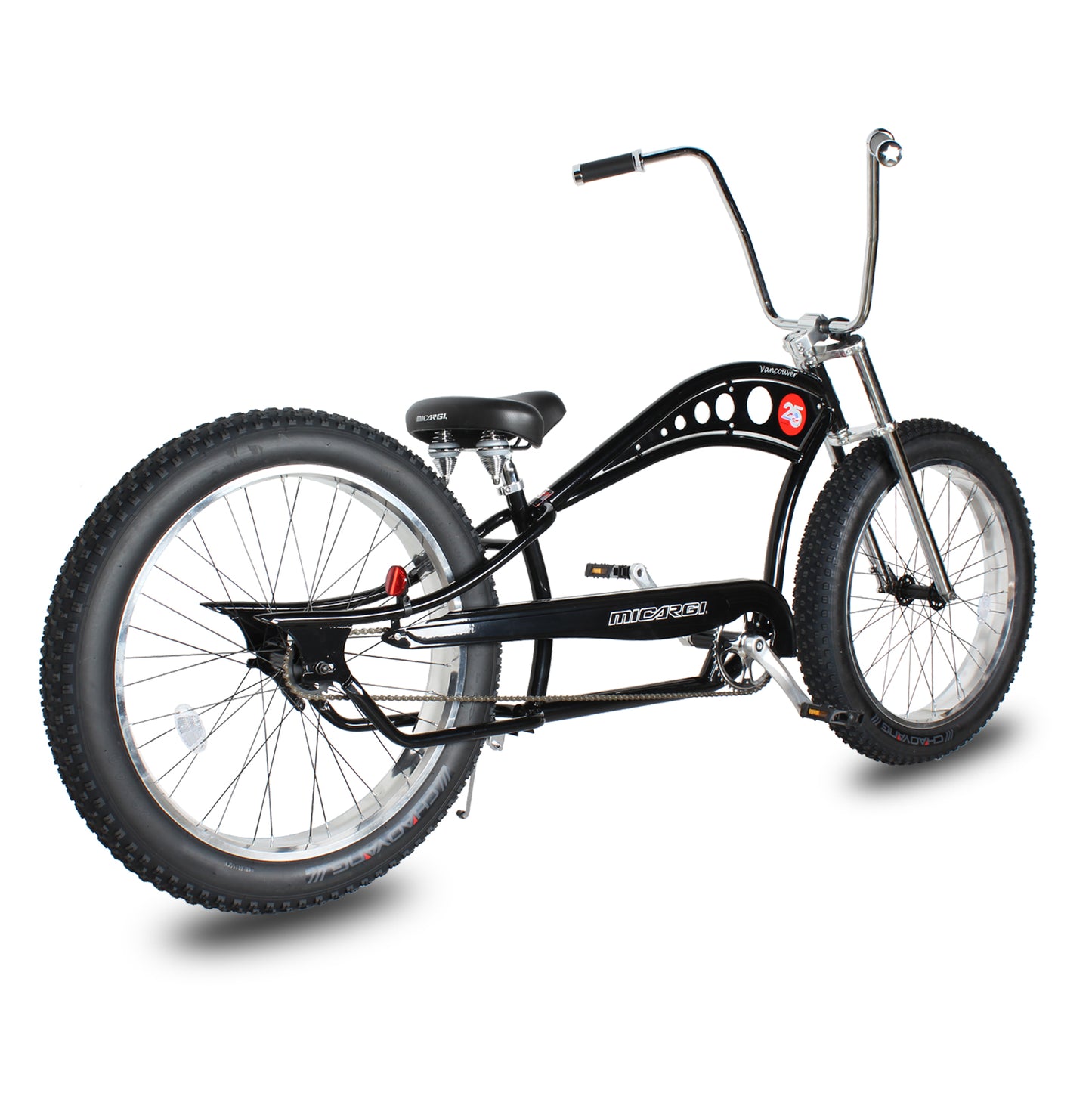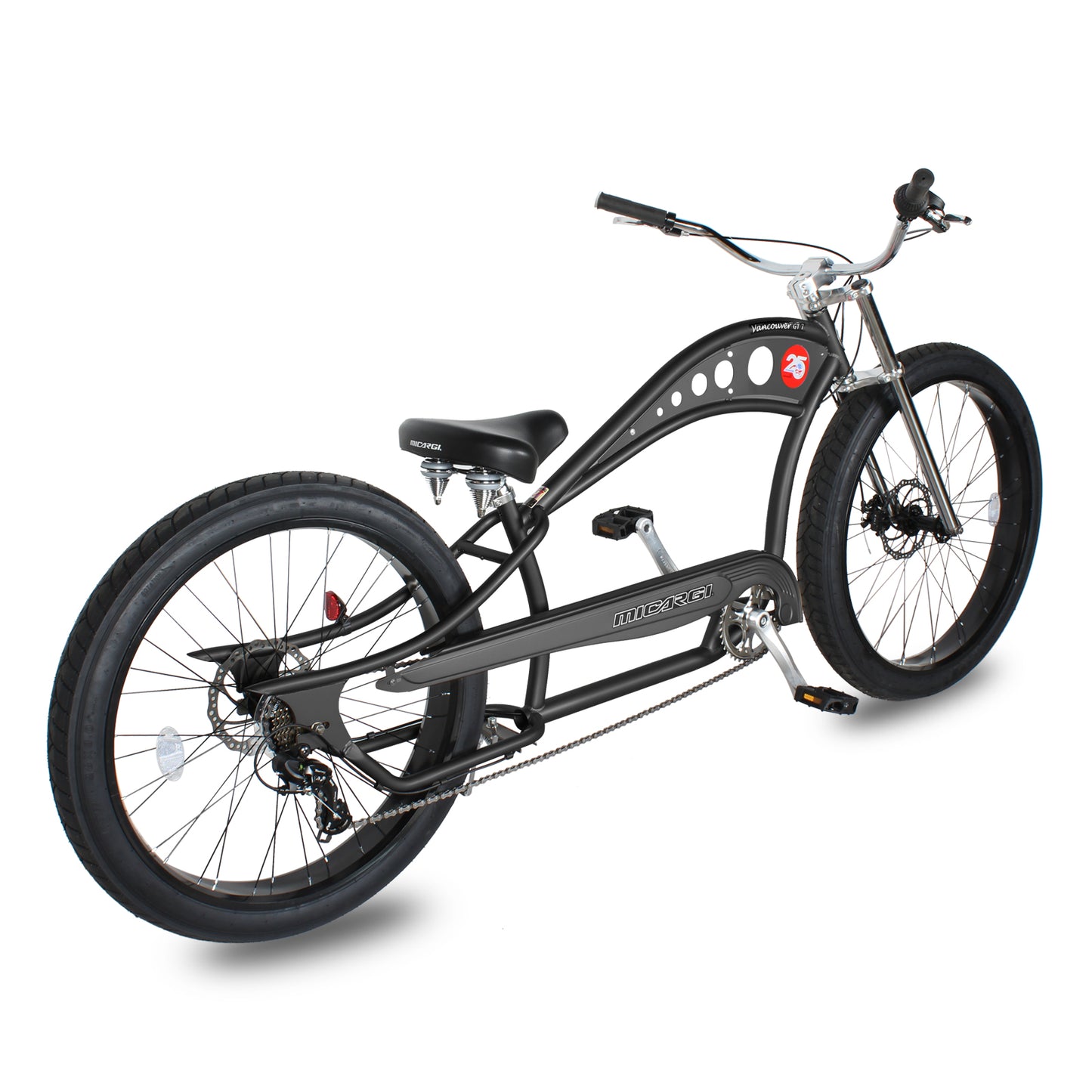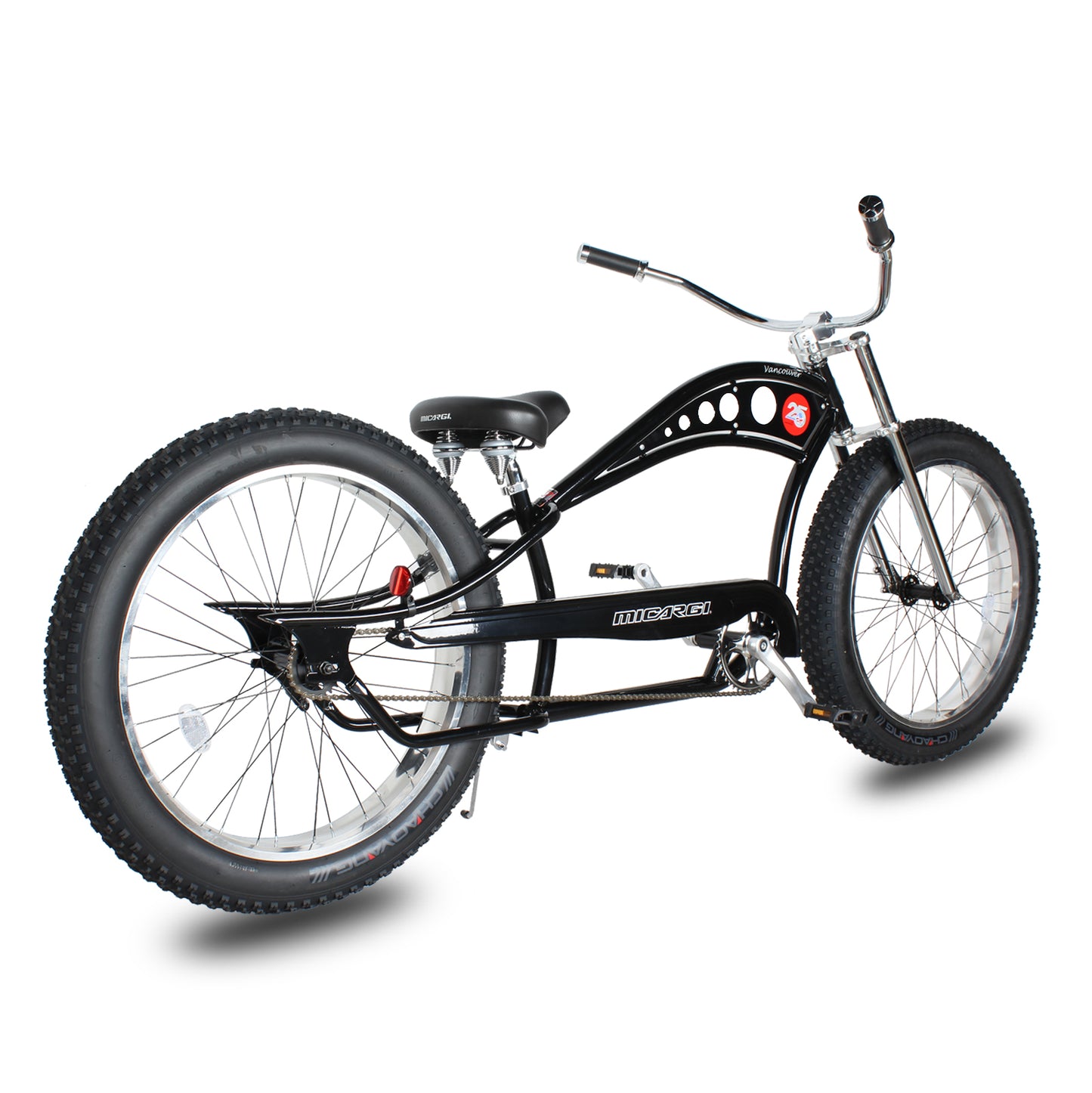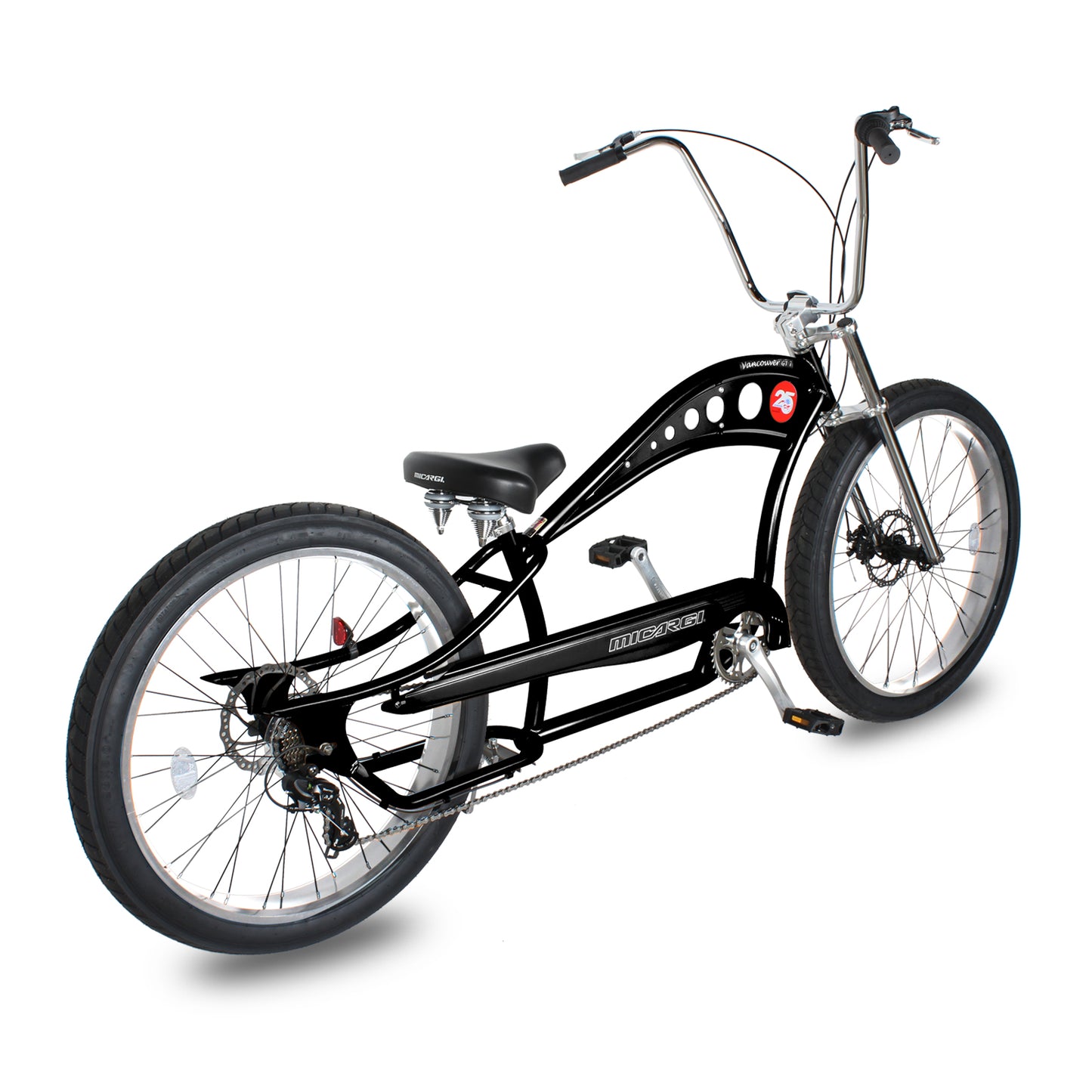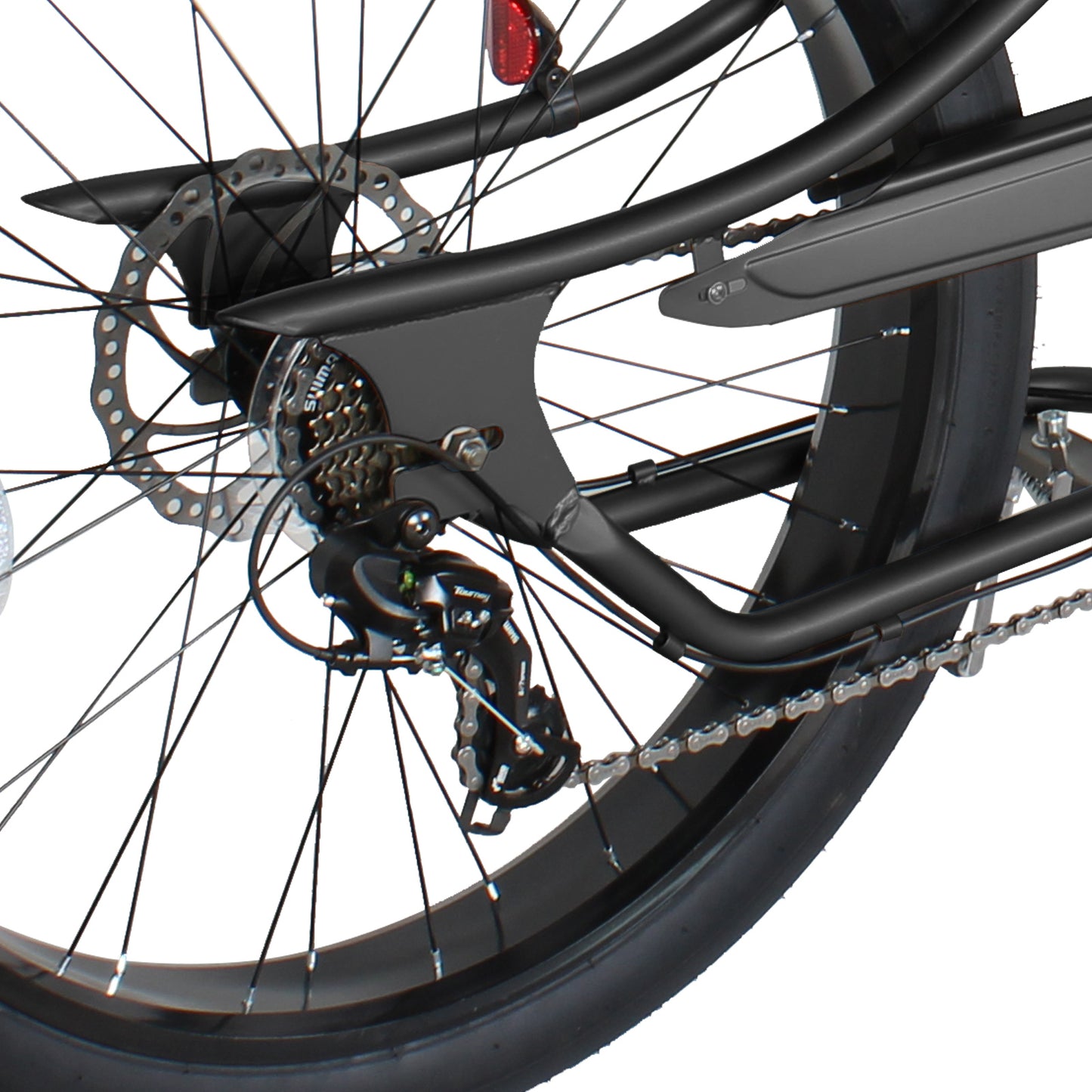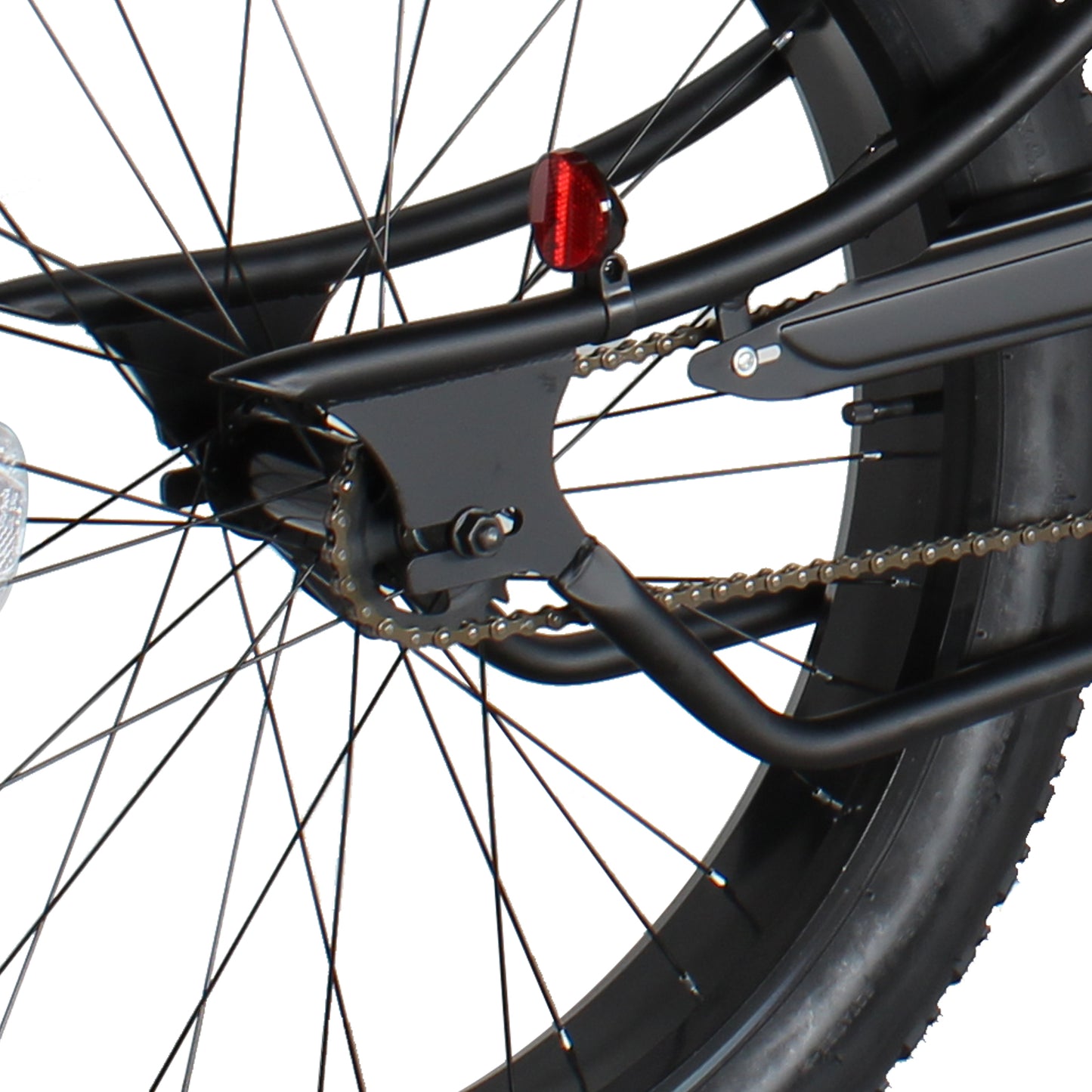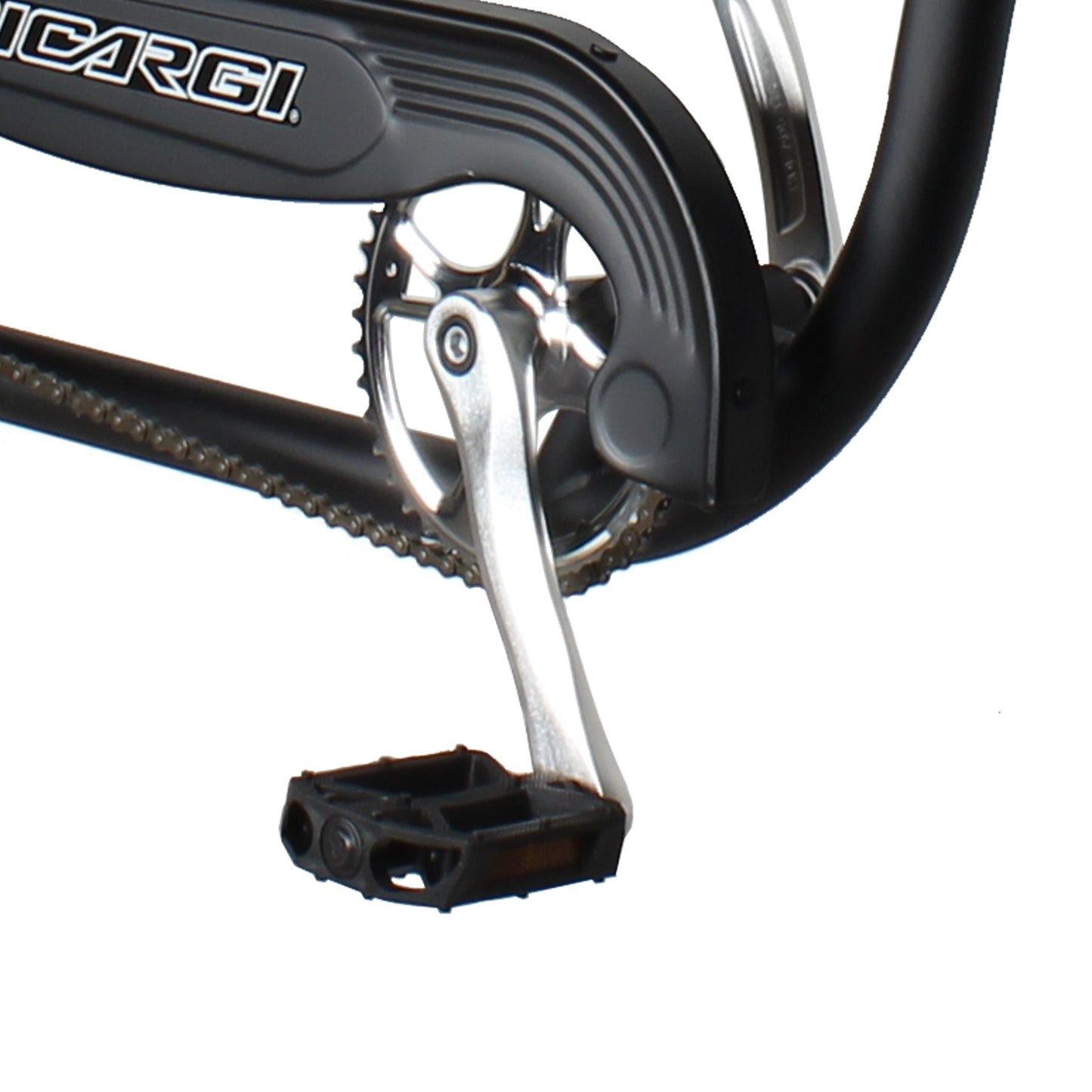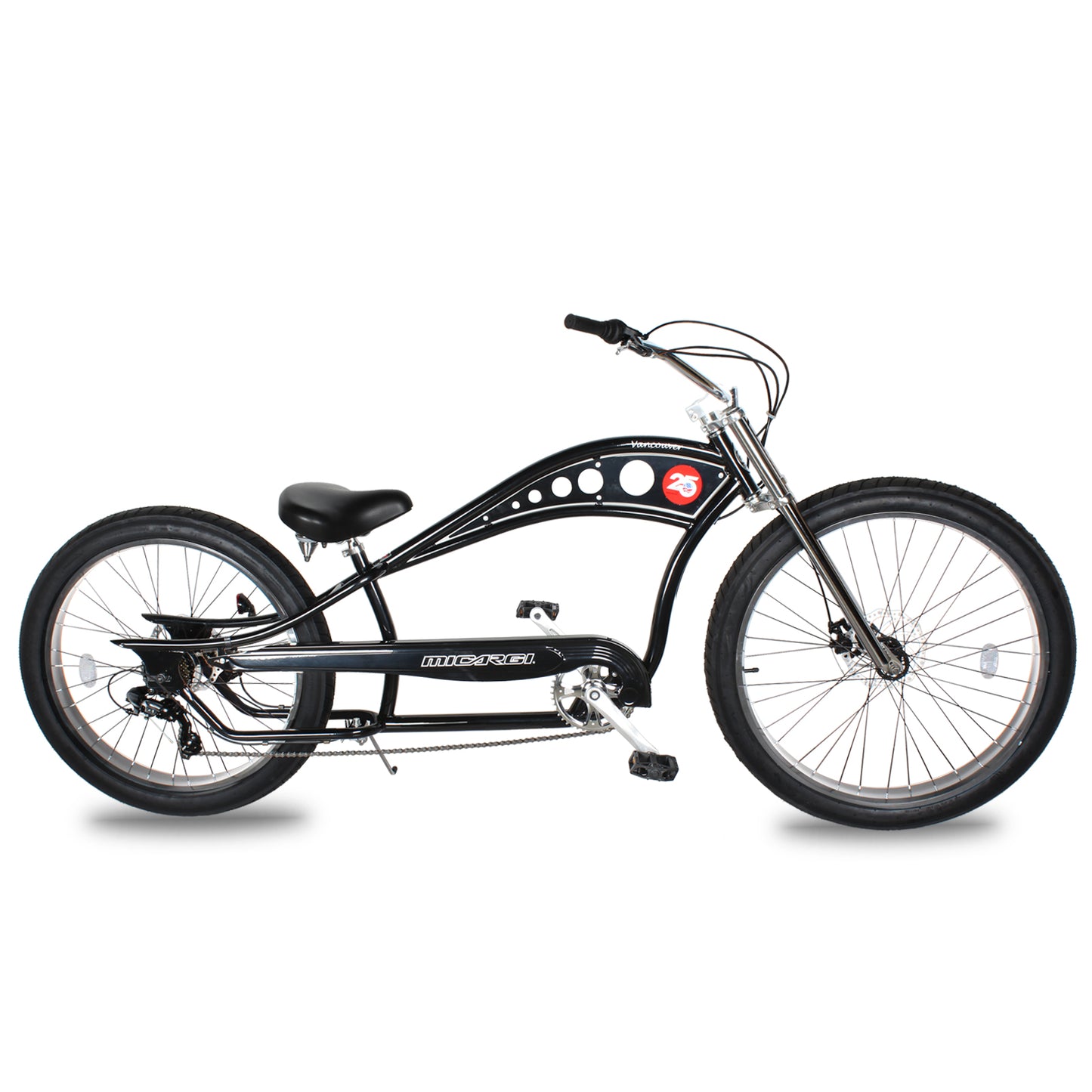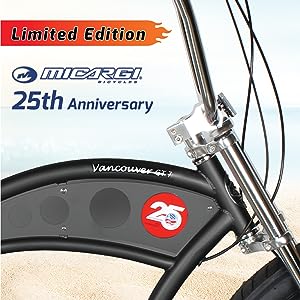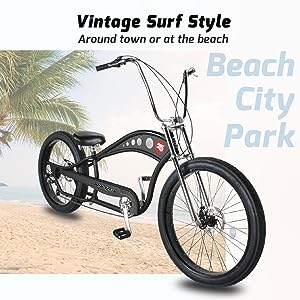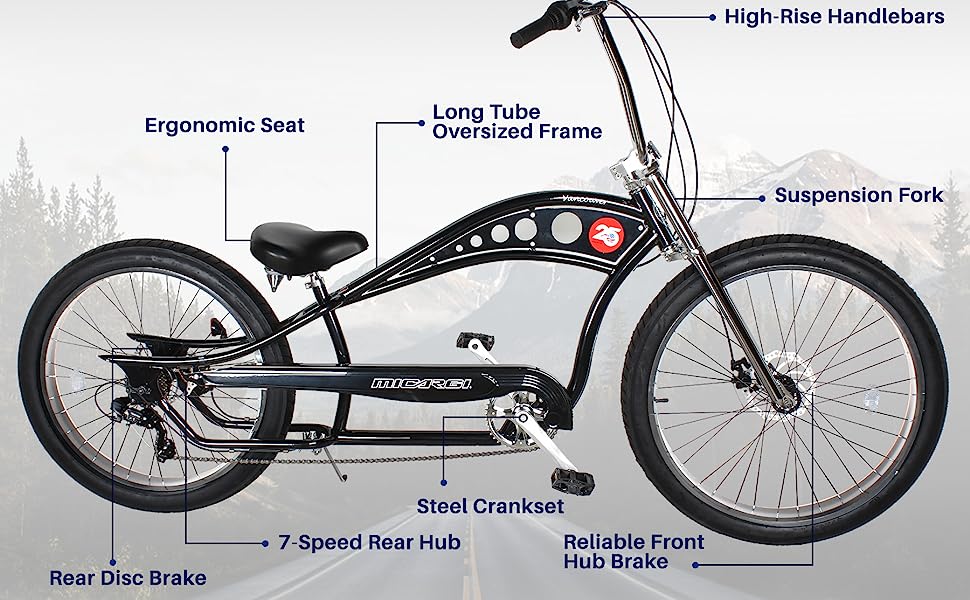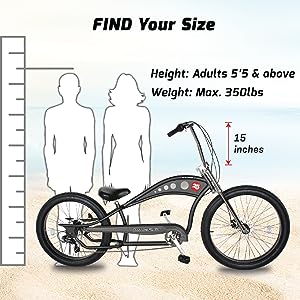 Elegant and comfortable riding experience!
The Micargi Vancouver bike is a perfect cruiser with a soft seat that makes long rides enjoyable and relaxing. Its classic design is just what I needed for beach cruising!
Great value.
This bike offers high-quality components at a relatively low price. It rides smoothly and feels stable, making it an excellent choice for adult beach biking.
Amazing cruiser bike!
Amazing cruiser bike! Stylish and comfortable, perfect for casual rides.
Easy assembly
I had this bike up and running in no time after it arrived. The instructions were clear and hassle-free. Now, I'm ready to hit the road!
Beautiful aesthetics
The simple yet elegant design of the Micargi Vancouver always catches the eye of passersby. Beyond practicality, it's a stylish bike to own.